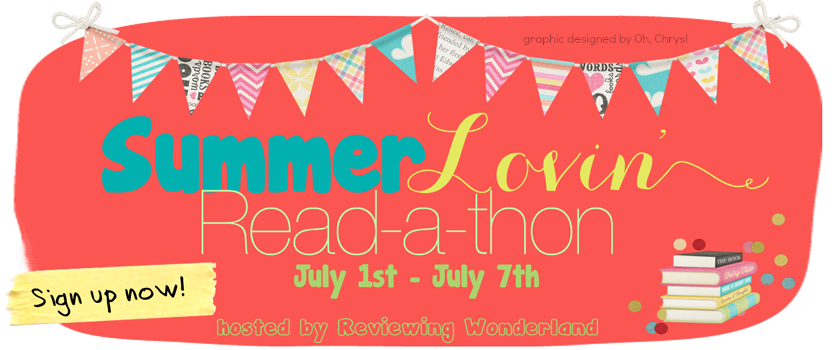 It's day one of the Summer Lovin' Read-a-thon! It's time for 7 awesome days of reading and book related fun. Summer Lovin' Read-a-thon is hosted by 7 independent book bloggers, if you're interested in joining in, just click the wonderful button at the top of this post.
Introduction:
My name is Kate. I live in the wonderful state of Texas! I'm 29 years old and a momma to a wonderful kid. I have the best black lab mix dog, however, he thinks he is the size of a Yorkie. He believes he is a lap dog. I also have two rambunctious, slightly mental, cats. I am a history nerd. I love to study history, and research is my specialty. I'm drawn to historical fiction because of that.
Reading didn't come to me naturally, it has been something that I have had to work on, and to this day still do. I'm dyslexic (you will probably notice typos). My momma, is a big reader. I remember growing up and watching her read and wonder why did she like it? It was hard for me. After a time, my mom took it upon herself to teach me how to read. So, in 3rd grade, my mom started working with me, the school just couldn't quite help me. It was a slow process, and by 6th grade, I was reading Little House. Dyslexia has been a constant struggle, but as I've gotten older I've been able to figure out what works for me and the love of reading has just blossomed! My library is huge now.
Goals:
For this week, I'm giving myself the challenge of reading at least 3 books. If I can get in more, yay!
1.
Love in a Broken Vessel
by Mesu Andrews
2.
Veil of Pearls
by MaryLu Tyndall
3.
Torrent
by Lisa T. Bergren
Possiables:
Bourne & Tributary
by Lisa T. Bergren
The Fairest Beauty
Daily Challenge: Day 1
Teaser Tidbits
hosted by Shelf Addiction
Grab the book you're currently reading (or recently read)
Open to a random page
Share two (2) "teaser" sentences from somewhere on that page NO spoilers allowed! Choose passages void of spoilers. The goal is to entice, yet not ruin the book for others!
I just started to read
Love in a Broken Vessel
by
Mesu Andrews
.
"I wish to have her as my bride."
Hosea's words were like a cold splash of water, reviving her to the dark present." p. 53
There is my introduction and goals! Let the reading begin....well, for this week anyway. :-)