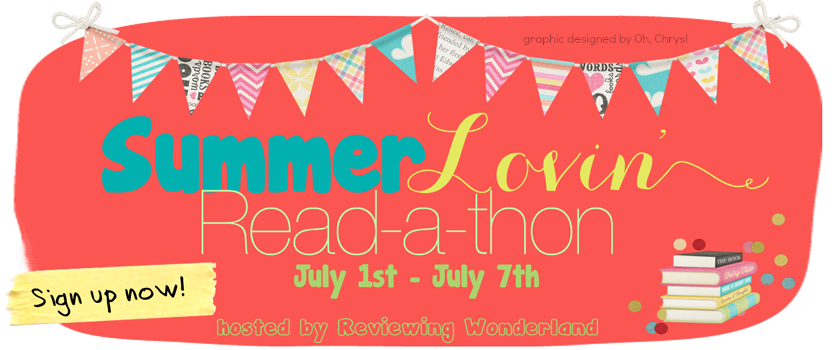 Summer Lovin' Read-A-Thon is a week long event hosted by 7 independent book bloggers. If you would like more information, or you would like to sign up, just click the link at the top. :-)
Today is Day 2 and the topic today is:
Tell us which books are on the top of your must-have summer reads list. They can be books you've read and recommend others to read, or books you want to read.
During summer, I prefer to read a little bit lighter books. Something with humor. Or I like to read something with fairy tales, something that isn't the norm. Schedules change in summer, so I want a book I can throw in purse and pick up at any given moment to read. I have a long list of books I like to read in the summer, some of them are series and this post could turn into a monster! So, I'm going to just stick with a few new books that I just added to my summer list.
My New Picks for the Year:
by Melanie Dickerson
An unthinkable danger. An unexpected choice. Annabel, once the daughter of a wealthy merchant, is trapped in indentured servitude to Lord Ranulf, a recluse who is rumored to be both terrifying and beastly. Her circumstances are made even worse by the proximity of Lord Ranulf's bailiff---a revolting man who has made unwelcome advances on Annabel in the past. Believing that life in a nunnery is the best way to escape the escalation of the bailiff's vile behavior and to preserve the faith that sustains her, Annabel is surprised to discover a sense of security and joy in her encounters with Lord Ranulf. As Annabel struggles to confront her feelings, she is involved in a situation that could place Ranulf in grave danger. Ranulf's future, and possibly his heart, may rest in her hands, and Annabel must decide whether to follow the plans she has cherished or the calling God has placed on her heart.
Waterfall
by Lisa T. Bergren
Most American teenagers want a vacation in Italy, but the Betarrini sisters have spent every summer of their lives among the romantic hills with their archaelogist parents. Stuck among the rubble of the medieval castles in rural Tuscany, on yet another hot, dusty archaeological site, Gabi and Lia are bored out of their minds...until Gabi places her hand atop a handprint in an ancient tomb and finds herself in fourteenth-century Italy. And worse yet, in the middle of a fierce battle between knights of two opposing forces.

Suddenly Gabi's summer in Italy is much, much more interesting.
by Krista McGee
Thalli has fifteen minutes and twenty-three seconds left to live. The toxic gas that will complete her annihilation is invading her bloodstream. But she is not afraid.

Thalli is different than others in The State. She feels things. She asks questions. And in the State, this is not tolerated. The Ten scientists who survived the nuclear war that destroyed the world above believe that emotion was at the core of what went wrong—and they have genetically removed it from the citizens they have since created. Thalli has kept her malformation secret from those who have monitored her for most of her life, but when she receives an ancient piece of music to record as her community's assigned musician, she can no longer keep her emotions secreted away.

Seen as a threat to the harmony of her Pod, Thalli is taken to the Scientists for immediate annihilation. But before that can happen, Berk—her former Pod mate who is being groomed as a Scientist—steps in and persuades the Scientists to keep Thalli alive as a test subject.

The more time she spends in the Scientist's Pod, the clearer it becomes that things are not as simple as she was programmed to believe. She hears stories of a Designer—stories that fill her mind with more questions: Who can she trust? What is this emotion called love? And what if she isn't just an anomaly, but part of a greater design?
Cover Re-Do
I'm artistically challenged, so I'm foregoing this challenge today.
What are your summer reads?